The U15 Burtonsville Thunder
Montgomery County Baseball Association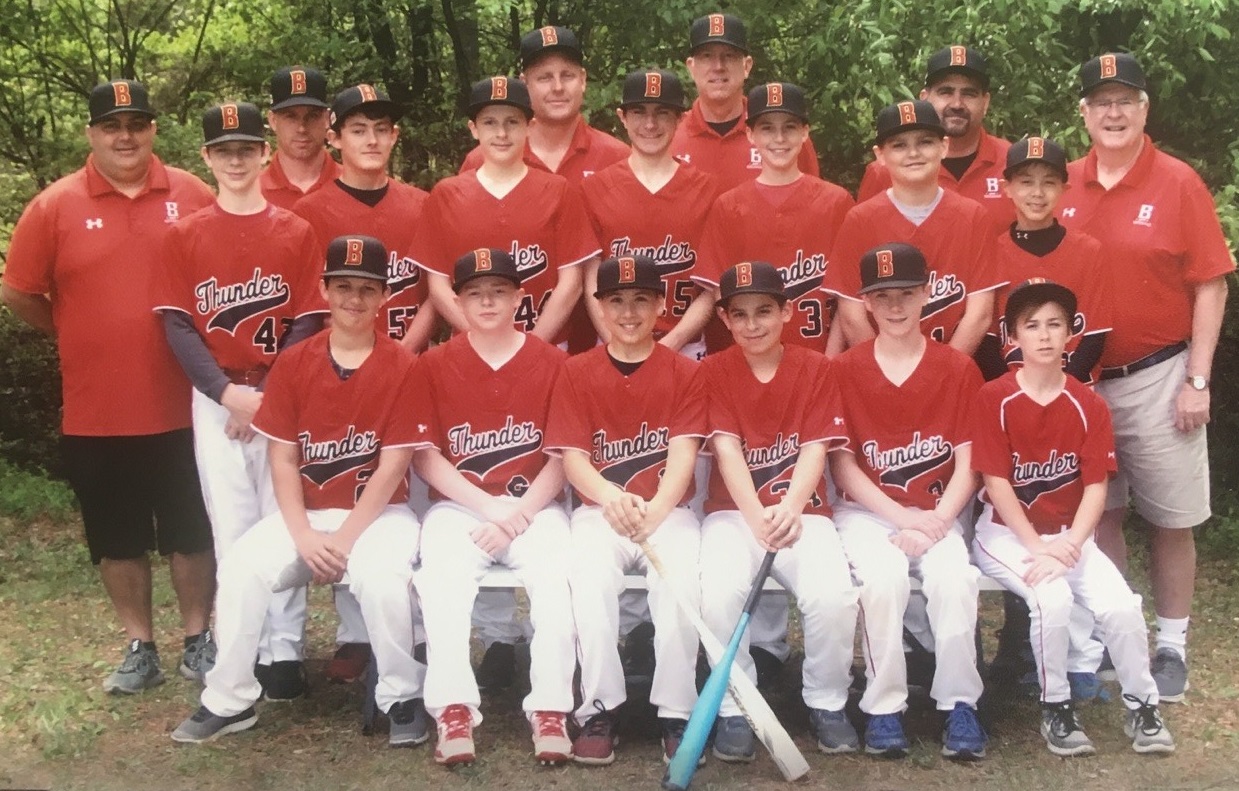 The 15U Burtonsville Thunder team had an incredibly fun season led by longtime coach and Burtonsville Athletic Association legend, Doc Egan. We have a dedicated group of coaches and a team that works hard together and continues to improve their skills. This team looks forward to testing their baseball abilities on the field in the Spring 2019 season.

In July 2017, we traveled to Cooperstown, NY where several players successfully competed, placed and won the individual skills competitions. The team fared well in the tournament and the families thoroughly enjoyed the opportunity to participate in this traditional youth baseball event.

For questions or more information on the 15U Thunder team, please contact Team Manager Tom Egan, tjegan4@yahoo.com. Coach David DePasquale, dsquale@comcast.net or Coach Jamie Day, jaday100@gmail.com.

2019 MABA 14 U Burt. Thunder Baseball Schedule
5-7-19     Tues.               Bye
5-9-19     Thurs.              HCYP                           Briggs Chaney MS
5-12-19   Sun.                 Tournament at Sports At The Beach
5-14-19   Tues.                at Urbana                    (no field assigned)
5-16-19   Thurs.               at WHC                       (many fields not assigned)
5-19-19   Sun.                  ITD -   (2)                     Briggs Chaney MS
5-21-19   Tues.                at HCYP                      (no field assigned)
5-23-19   Thurs.               Bye
5-26-19   Sun.                  Tournament at Pittsburgh
5-28-19   Tues.                 EYO                            Briggs Chaney MS
5-30-19   Thurs.                at Cubs                       (no field assigned)
6-2-19     Sun.                   at MAYAA (2)             Twin Ridge Elem. School
6-4-19     Tues.                  Post 191                    Briggs Chaney MS
6-6-19     Thurs.                WHC                           Briggs Chaney MS
6-9-19     Sun.                   Little    (2)                   Briggs Chaney MS
6-11-19   Tues.                 at EYO                        (no field assigned)
6-13-19   Thurs.                BYE
6-16-19   Sun.                  Titans   (2)                  Briggs Chaney MS
6-18-19   Tues.                BYE
6-20-19   Thurs.               Savage                        Briggs Chaney MS
6-23-19   Sun.                 at Sykesville  (2)          Sykesville Freedom Park
6-25-19   Tues.                Cubs                            Briggs Chaney MS
6-27-19   Thurs.              at Post 191                   (no field assigned)
6-30-19   Sun.                 at Finksburg  (2)           Deer Park Memorial Field
7-2-19     Tues.               at Savage                     Savage Park #5, 8400 Fair ST., Savage , MD
7-4 and 7-7-19               No games
7-9-19     Tues.               MABA playoffs start


14U Thunder Tournaments
4-6,7-19          Upper Chesapeake in Bel Air, MD
4-27,28-19      Future Stars in  Hershey, PA
5-4,5-19          Olney Mutiny in the Park, MD
5-11,12-19      Sports at the Beach, Rehobeth, DE
5-25,27-19      Atlantic Coast in Pittsburgh, PA
7-13,14-19      Elite in Lancaster, PA
The 13U Thunder would like to thank the following sponsors
for their generosity and support:
Dr. Bonebreak, Orthodontist 
Support Systems Inc.
Keating Financial Services 
Joe Huff-Realtor-Long and Foster 
Drs. Wise & Romanow, Oral Surgeons 
Dr. Evans, Periodontist 
Jerry's Subs & Pizza, Brutonsville 
Europarts
Dr. Goldman, Oral Surgeon 
Drs. DeMarco & Tilkin, Orthodontists 
Dr. Gunraj, Endodontist 
Life Chiropractic of Olney 
Drs. Erickson & Hong, Orthodontists 
Dr. Mattson, Orthodontist 
Ken Barkman, Wells Fargo Advisors 
Dr. Evans, Periodontist
Dr. Goldman, Oral Surgeon
Drs. DeMarco and Tilkin, Orthodonitsts
Drs. Mennitt and Daly, Oral Surgeons
Drs. Lyn and Jee, Oral Surgeons